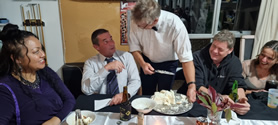 Enjoyed by 35 plus club members and visitors (it's always nice to have visitors here for our events, thank you for coming).
It was lovely to see our Guys dress up to the nines in their suits. It's not often we get the chance to pull out, dust off,
wonder why our dress pants have shrunk??!... Our Girls were also looking beautiful in their cocktail dresses, very debonair.
The Sports Awards were presented by Nick, our club President, who did the 2020 presentation. One of our Visitors did half of 2021, thank you Raewyn. Then the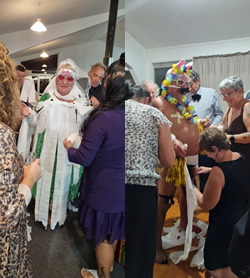 last half by Hans, so he could sneak around getting ready for the "entertainment".
To The Night's entertainment.... This was supplied by Mark and Jose, both had No idea that they were... That's what happens when you decide NOT to have a Stag/Hens night. Ya lucky, you
both got off lightly, we Still think Jose made the best looking Toilet paper Bride.... So stop protesting Mark, your wedding dress was nowhere as nice.
Now for a run down on this year's winners (Drum roll please)
The 2021 Sports Awards Winners are...
Petanque
Singles: Trevor M.
Doubles: Moana W. and Andrew P.
Bowls
Singles: David B.
Doubles: David B. and Trevor M.
Kubb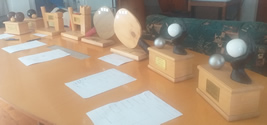 Singles: Geoff K.
Doubles: Tony O. and Dawn B.
Table Tennis
Singles: Andrew P.
Doubles: Andrew P. and Trevor M