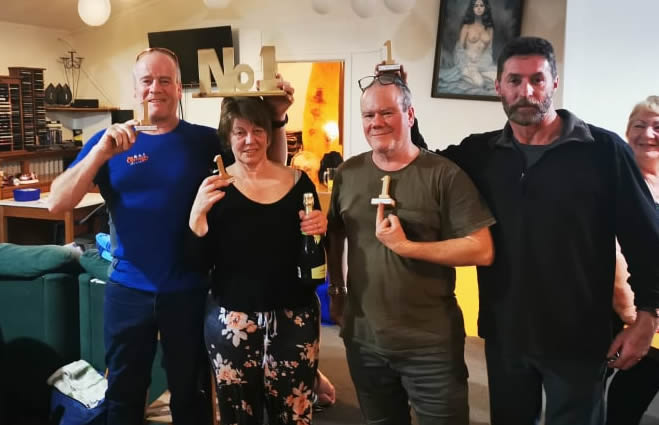 The inaugural HBNC quiz night held in August was a huge success with the participation of members and visitors.
We started with a great dinner – food feeds the brain it seems even if we did struggle to clear the decks after dessert in time to begin testing the brain!
Thanks to the visitors who came, doubtless expecting a slick professional operation, and lent their enthusiasm and brainpower to the impromptu comedy, mic failures, and a crowd that spared no one in their drive to win one of Trev's special awards!
While the adjudicators stood up sternly to the heckling of the crowd (the judge's decision is FINAL even when you google the contents of Elvis Presley's sandwich), Mark strode boldly forth and turned out a very credible performance. It almost looked as if he knew what he was doing ….with a little prompting from the judges table.(" No, no chocolate fish extra and speak up!"). The security hired especially for this event shone in his cryptic shirt which offered a cryptic clue to one of the flag questions.
Trevor kept the crowd…mob…..entertained in the breaks with his brilliant version of "banana in my box" with the title of biggest bullshitter going to Jodi! Fancy the final being between the former and new president! ( hmmmmm) Thanks Trev as we needed that time on the judges table to collect ourselves after the mob became accustomed to the fact that creative answers would win a small treat – oh boy did they get creative!
The winning trophies went to "Einstein's bastard children", a well-deserved win to a strong (and loud) team.